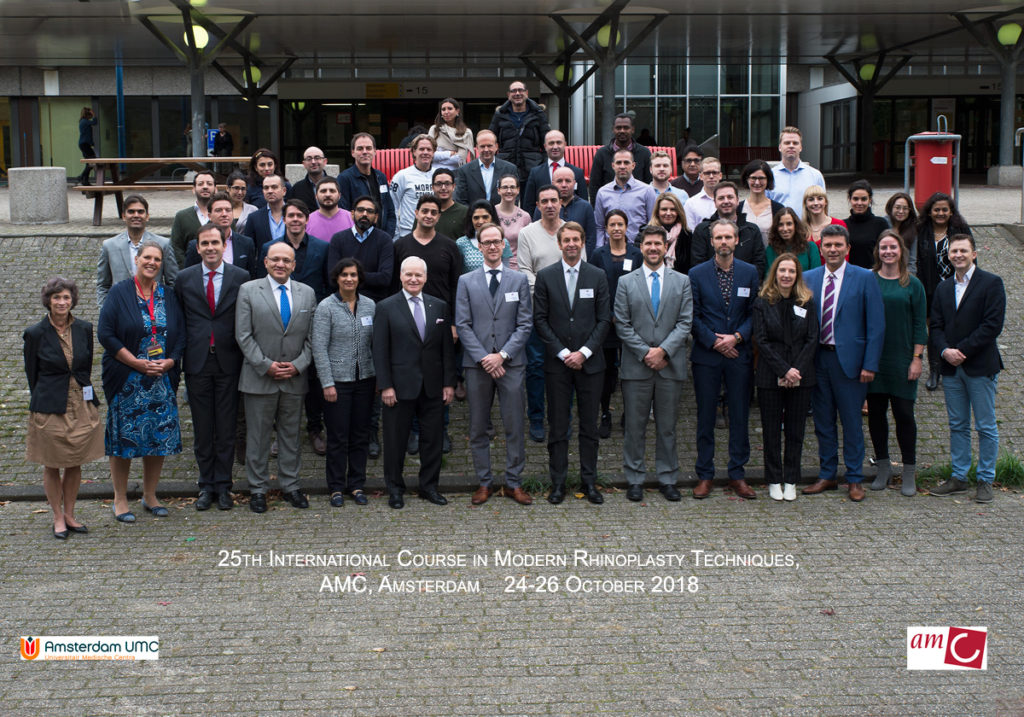 Faculty, organization and participants of the 25th International Course in Modern Rhinoplasty Techniques, 24-26 October 2018.
---
Impressions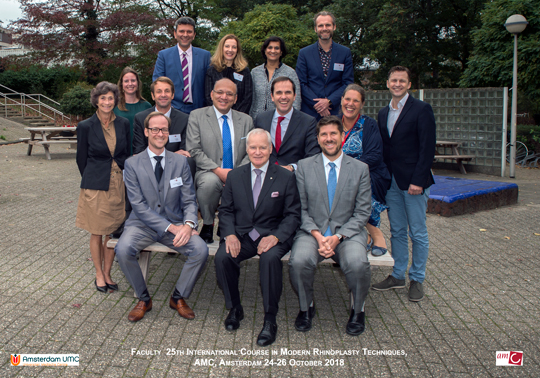 Faculty and oganization of the 25th International Course in Modern Rhinoplasty Techniques. Teacher of Honour: Peter A. Adamson, Toronto, Canada.
Read an interview with Teacher of Honour Peter A. Adamson.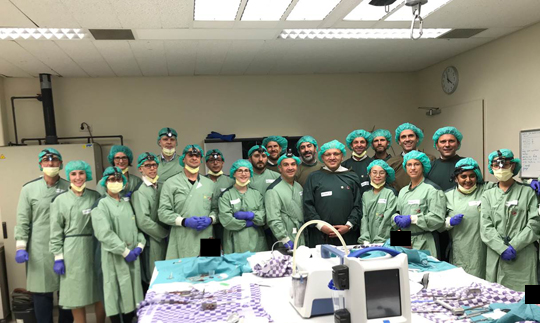 Dissection lab of the 25th International Course in Modern Rhinoplasty Techniques.
---
Testimonials of participants
First of all, I would like to sincerely thank to the European Rhinology Society for this fantastic opportunity to take part in such famous Dissection Course in Rhinoplasty Techniques and to visit the beautiful city of Amsterdam.
The organization was really on a very high level. A great combination of lectures and practical training.
Lectures from world-renowned rhinologists and plastic surgeons were filled with clear and very informative content for performing rhinoplasty for both beginner and experienced rhinologist.
Lectures were constructed in such a way as to explain the technique of rhinoplasty from simple primary interventions to complex secondary or even tertiary surgeries.
Famous doctors shared their practical experience and it should be noted that the lectures were constructed interactively, so that all the participants could ask a lot of questions that they always received full answers.
We also had the opportunity to see a live demonstration of Rhinoplasty from the beginning to the end with excellent video quality and comments from Prof.P.W.Hellings from Amsterdam and Dr.A.A. Winkler from the USA.
I was happy to hear a lot of interesting lectures from the Teacher of Honour from Canada – Prof. Peter A. Adamson, who deliver not only lectures on Rhinoplasty Techniques, but also about the things that will help ERS Juniors to succeed in their careers. It is worth mentioning his lecture on Unique Ability, that were simply entertaining.
And of course – one of the most interesting components of the course was a cadaver dissection. For all participants fresh frozen Cadavers were prepared, which were divided one for two participants, which was in fact intelligent, since we could discuss with each other principle of rhinoseptoplasty.
Thanks to the constant assistance of our teachers – world-renowed Rhinologists, we could understand how well executed our tricks and our mistakes during the dissection and correct them.
All participants were provided with very well step-by-step dissection books that were really helpful during dissection.
I want to especially note the very valuable advice of Professor I. Constantinidis from Greece, who really helped me to sort out and put in my head some moments of rhinoseptoplasty and basic septoplasty in which I was uncertain.
After this course, I definitely have to say that I learned a lot of new techniques and improved my skills and brought home a lot of new and interesting information that I can share with my colleagues every day.
Once again, I would like to thank the best European Rhinologic Society for this opportunity to attend this course in Amsterdam and will definitely plan to attend the Cadaver Dissection Course in FESS.
Yours fairthfully,
Maryana Cherkes
MD. ENT-specialist at the Lviv City Children's Clinical Hospital
Assistant Professor at the Lviv National Medical University, Ukraine